What People Are Saying About the Biggest Ballot Shakeup in Michigan History 
Yesterday evening, following a thorough nominating petition review, the Bureau of Elections recommended that James Craig, Perry Johnson, Mike Brown, Michael Markey, and Donna Brandenburg should not be included on the August primary ballot due to submitting an insufficient amount of valid signatures. The ultimate fate of these Republican gubernatorial candidates will be determined by a Board of Canvassers vote set to take place on Thursday.
Already extensively reported on by multiple outlets, Craig, Johnson, and Tudor Dixon are facing ballot access challenges due to their alleged involvement in an illegal "round robin" signature forging scheme in which "a small group of people sign[ing] names and addresses in turn, one per sheet, using a voter list." 
Read more below on how members of the press and Republican strategists interpreted the unprecedented scale of mass and blatant fraudulent activity that rivals any other cycle Michigan has ever seen.
Michigan Press Underlined the Sheer Scale of Forgery; Four Out of Five Candidates Facing Disqualification Submitted More Fraudulent Signatures Than Valid Ones
Zach Gorchow (Gongwer): WOW: "In total, the Bureau estimates that these circulators submitted at least 68,000 invalid signatures submitted across 10 sets of nominating petitions."
Taylor DesOrmeau (MLive): Here's how close each is to the required 15,000 signatures.
Perry Johnson: 13,800 valid, 9,393 invalid
James Craig: 10,192 valid, 11,113 invalid 
Michael Brown: 7,091 valid, 13,809 invalid
Michael Markey: 4,430 valid, 17,374 invalid
Donna Brandenburg: 6,634 valid, 11,144 invalid
Former MIGOP Executive Director Jeff Timmer: This is a giant f***ing deal. Not only is it a GOP political implosion in Michigan, it is likely to lead to criminal charges and civil litigation aimed at those at the crux of the fraud.
Steve Neavling (Detroit Metro Times): Bureau of Elections on the unprecedented level of fraud: "The Bureau is unaware of another election cycle in which this many circulators submitted such a substantial volume of fraudulent petition sheets consisting of invalid signatures."
Republican strategist Jamie Roe: You can and will screw up nearly everything in politics. But you can NEVER screw up ballot access.  Incredible night in MI politics and criminal charges should be forthcoming.
Emily Lawler (Detroit Free Press): RE: immediate impact — this is a heck of a time in the campaign cycle to have to put time/money/energy/staff into a canvassers and a potential court battle instead of making fundraising calls, meeting voters, crisscrossing the state, prepping for debates and kissing babies.
Reporters Underscored the Utter Lack of Due Diligence Exhibited in the Fraudulent Campaigns
Simon D. Schuster (Michigan Campaign Finance Network): Bureau of Elections staff provides a detailed explanation of why signatures were found to be fraudulent in their report, but some of the examples they provide illustrate forgery that is almost painfully obvious. Look at this. What would explain this away? That the petition circulator was carrying 3-5 different pens and switching them at steady intervals? The ink even corresponds to the handwriting on these sheets. I'm having a lot of trouble understanding how this wasn't noticed by any campaign.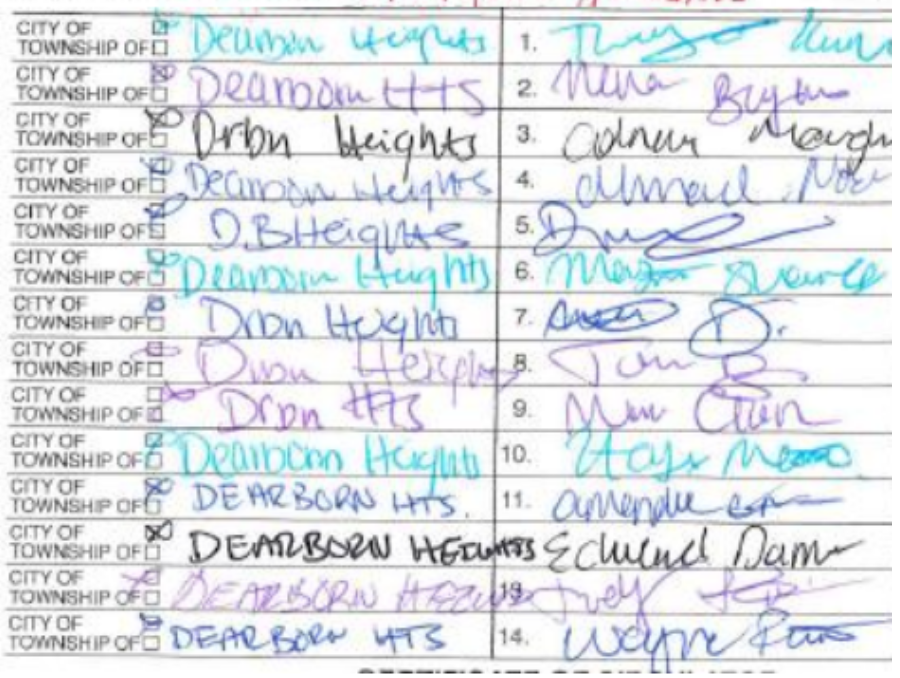 Jonathan Oosting (Bridge Michigan): In some cases, the accused signature forgers tried to cover their tracks (?) by just making all the signatures illegible. This is the kind of obvious fakery campaigns often try to identify themselves before submitting. Apparently didn't happen on these James Craig petitions.
Andrew Roth (Michigan Advance): Markey bragged about his signatures at the Republican debate earlier this month with a dig at James Craig, saying, "unlike some people, we did it the right way."
Malachi Barrett (Bridge Detroit): Ice cold take, but it's just really something, the irony of this happening after so much talk of being "the guy" to run good clean elections in Michigan. Boy howdy.
Jonathan Oosting (Bridge Michigan): For one allegedly forged signature collected for Perry Johnson, a circulator appeared to misspell the name of a voter named "Lia" as "Liar," which seems like an unintentional admission of guilt and/or a cry for help.
So Far, Mike Brown is the Only Candidate to Own His Campaign's Actions and Drop Out; Johnson is Appealing and Craig is Claiming Campaign Sabotage (Again)
Republican strategist Andrea Bitely: Candidates that make the decision to hire organizations to collect signatures have a responsibility to ensure that the petitions they turn in are legitimate. Anyone that takes even a cursory look at the petitions turned in can see forgeries.
Craig Mauger (Detroit News): Perry Johnson's campaign is the first to vow to fight the bureau's findings. The bureau "does not have the right to unilaterally void every single signature obtained by the alleged forgers who victimized five campaigns," says John Yob.
Paul Egan (Detroit Free Press): I just spoke with former #Detroit Police Chief James Craig, who says he is not ready to quit the #MIGOP race for governor but hopes that Attorney General Dana Nessel will open a criminal investigation of fraudulent signatures. "I do believe this was a well-planned and orchestrated effort to get me off the ballot," and "I'm being robbed of the opportunity … to let Michigan voters decide who should represent the GOP," Craig told @freep 
Dave Boucher (Detroit Free Press): The former police chief of Detroit appears to be alleging there was a coordinated conspiracy to prevent him from appearing on the GOP gubernatorial ballot…
Conservative columnist Kaitlyn Buss: Similar to the nonexistent conspiracy to elect Joe Biden instead of Donald Trump, there is no elaborate plan here to sabotage. @ChiefJECraigDPD & @PerryJohnsonMI moved themselves out of the way with abysmal campaigns, a lack of basic competency, and trying to buy an election.
Zach Gorchow (Gongwer): GOP governor field probable DQs, The Day After.
Brown: Accepts state's findings, ends bid
Johnson: Planning to fight
Brandenburg, Craig, Markey: [cricket emojis]
Rachel Louise Just (WWMT): Michael Brown (@CaptMikeforMI) is out of the race today following news his campaign had more invalid signatures than valid ones. "I cannot and will not be associated with this activity… I will exit the race for Michigan's Governor with my integrity and this principle intact."
Paul Egan (Detroit Free Press): Capt. Mike Brown of MI State Police has withdrawn from the #MIGOP race for gov. He says his signatures were substantially legit but circulators involved with his campaign later went on a "money grab" with other candidates scrambling to meet filing deadlines 
The Implosion of MIGOP-Insider Favorite James Craig's Campaign Was a Major Point of Discussion
Craig Mauger (Detroit News): The bureau's revelations Monday evening shake up the 2022 race to be Michigan's governor, potentially leaving Republicans without their most well-known candidate, Craig, and without their wealthiest hopeful, Johnson.
Republican strategist John Sellek: Assuming this holds, the collapse of the James Craig campaign goes down as the biggest since John Cherry in 2010 and likely as the greatest in Michigan history.
Rachel Louise Just (WWMT): The frontrunner for the Republican nomination for Michigan's next governor may not even make it onto the primary ballot. Hard to overstate how much this will shake up the race, if it sticks through the Board of State Canvassers vote later this week.
Republican strategist John Sellek: In part because no other candidate held the power Craig does in the Detroit media market, no one else could beat him over the last year. Instead, he beat himself.
Republican Strategists and Reporters Noted How Halving the Field Overnight Would Dramatically Shake Up the Republican Race for Governor 
Former MIGOP Executive Director Jeff Timmer: The Michigan governor's race is arguably the most important in the nation. Half of the GOP field of ten is being disqualified from appearing on the ballot. All who remain are gadflies and/or political pocket lint.
Former MIGOP Executive Director Jeff Timmer: There's a saying in campaigns that you can't beat somebody with nobody. The Michigan Republicans seem intent on testing that.
Simon D. Schuster (Michigan Campaign Finance Network): And just like that, the GOP gubernatorial primary is in upheaval.
Emily Lawler (Detroit Free Press): Stark math on Michigan's GOP gov primary: half the field could be bounced off the ballot if the Bureau of Elections ruling holds.
Eric Lloyd (9 and 10 News): It will be made official one way or the other Wednesday with the Board of Canvassers but it looks like: Perry Johnson, James Craig – OUT. Tudor Dixon – IN. Craig and Johnson have been the front runners in almost all recent polls. This is a shake up.
Emily Lawler (Detroit Free Press): The fact big donors skipped over higher-polling candidates tells you something about the state of this race. Fewer than 4 months out from the primary there is no frontrunner; not even close. Particularly with signature challenges looming, the field feels as unsettled as ever.
Susan J. Demas (Michigan Advance): Nobody predicted half the Michigan GOP gubernatorial field would get booted from the ballot, so perhaps we could take a break from punditry about who will win in 2022, as nobody clearly knows.
David Eggert (AP): If these recommendations hold, those Republican governor candidates who'd make the ballot are Soldano, Rinke, Kelley, Dixon, Rebandt
Jonathan Oosting (Bridge Michigan): If James Craig is off the ballot, Garrett Soldano is now the top polling candidate in the GOP race.
The post What People Are Saying About the Biggest Ballot Shakeup in Michigan History  appeared first on Michigan Democratic Party.